Belarus, Zhodino: Priestly Ordinations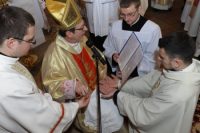 Saturday, Feb. 2, 2013, the Apostolic Nuncio Claudio Gugerotti ordained to the priesthood our confrere, Deacon Vital Danilovich. The ceremony took place during the solemn Eucharist at the Parish Church of Our Lady of Fatima in Zhodino, Belarus (Diocese of Minsk-Mohyliv).
In his homily, translated from Italian by Fr. Viachaslau Pialinak, MIC, the Archbishop noted that Joseph and Mary brought the Infant Jesus to the temple to offer Him to God. The Marian Fathers offered to God a young man and are happy, because they made a gift – as per the old tradition – but not of two doves, but of something greater – "the life of a man." He also pointed out that the community surrounding the newly ordained interceded for him. The Church put her trust in him and sent him to proclaim Jesus and to pray for the faithful, entrusted to him. To close, the Nuncio, addressing Fr. Provincial, thanked the Marians serving in Belarus and underlined their good education and care for the beauty of the Belarusian language. The good fruits of their service can be already seen in the form of new vocations, emphasized the Nuncio.
The Archbishop wished the newly ordained to be a faithful and courageous champion of the word of God in the example of the Martyrs of Rosica. He also noted that God sent the new priest to the place of service of the two Blessed Martyrs and that it is worthy to seek protection of these heavenly patrons.
The solemnity gathered many guests from Belarus and Poland, along with Fr. Paweł Naumowicz, Superior of the Divine Providence Province (of which Belarusian posts are a part), Archmandrite Sergiusz Gajek, MIC, Apostolic Visitator for the Catholic Church of Byzantine-Belarusian Rite, and Fr. Andrzej Jeronimek, MIC, Superior of the Marian Seminary in Lublin. Also present were members of Vital's family, seminarians from Lublin, Sisters Handmaids of Jesus in the Eucharist, and numerous parishioners.
While thanking everyone for their prayers, Fr. Vital expressed his joy that he became a priest on the day dedicated to consecrated life.
The newly ordained celebrated his first Mass in his native parish of the Most Holy Name of Jesus in Novopolock. The homily was delivered by Fr. Andrei Sidarovich, MIC, who said that the task of the newly ordained priest was to watch over the faithful in his care and to lead them to Christ.
Father Vital Danilovich, MIC, was born in Novolopock, in 1983. He will minister at the Marian parish in Orsha.
Piotr Szyperski MIC/Ed.
On Saturday, September 16, at the Cathedral of the Sacred Heart in Rēzekne, Deacon Romāns Vaikulis MIC received the [...]
This year's Solemnity of the Assumption of the Most Blessed Virgin Mary had a particularly important meaning for the [...]
In a fruitful week, the Marian Fathers of the Blessed Virgin Mary, Mother of Mercy Province welcomed new postulants, novices, and professed brothers, as well as a newly perpetually professed brother.