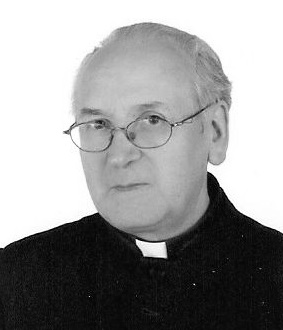 On November 22, 2020 Fr. Kazimierz Chrostowski, MIC, died at the hospice in Reszel. He was 84 years of age, a religious for 66 years and a priest for 52. The largest part of his life was associated with Stoczek Klasztorny, where he served for a total of 48 years.
Father Kazimierz Chrostowski, son of Zygmunt and Aleksandra nee Borawska, was born March 25, 1936 in the village of Mocarze, district of Łomża in the Diocese of Łomża, Poland. After finishing elementary school in Burzyn, from 1951-1953 he attended the 8th and 9th grades at the Minor Seminary of the Silesian Fathers in Różanystok. In 1953 he was admitted to our Congregation, completed his novitiate in Skórzec and made his first profession of vows on August 15, 1954.
From 1954-56 he completed his high school course in Góra Kalwaria, and took a year-long break from studies in 1956 and 1957, which he spent in our religious house in Licheń. He spent his first year of theology from 1957-1958 at the Higher Metropolitan Seminary in Warsaw, and his second year at our religious house on Wileńska Street in Warsaw from 1958-1959. He spent the following year (1959-60) in Kiwity, serving as an organist. During the school year of 1960-1961 he took his second year of theology at the Major Seminary in Włocławek, but then, for the three following years (1961-1964) he served as a sacristan in Stoczek Klasztorny. He completed his course of theology at the Major Seminary in Siedlce between the years of 1964-1968. On June 8, 1968 he was ordained to the priesthood by Bishop Wacław Skomorucha at the Siedlce cathedral. Immediately after his ordination, in 1968-1972 he was assigned to assist in pastoral ministry and catechetic work in Skórzec, following which he served for a year in Głuchołazy, and then, also for a year, in Góra Kalwaria. Transferred to Stoczek Klasztorny, in 1974-1989 he served as an assistant in pastoral ministry, catechist and organist, conducting also during his time there major repair work on the organ of the Stoczek church. For a year and a half (1989-1990) he conducted pastoral ministry and heard confessions at the St. Francis Xavier Church in Grudziądz. Upon returning to Stoczek Klasztorny in 1990, he stayed there until his death, assisting at the local parish and the shrine; he was also many-times appointed as a house councilor.