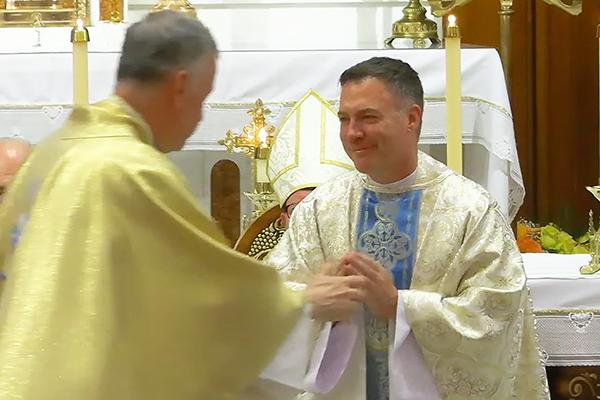 On Saturday, August 12, Fr. Jason Lewis MIC, was ordained to the priesthood for the Congregation of Marian Fathers of the Immaculate Conception at the National Shrine of The Divine Mercy in Stockbridge, Massachusetts.
The 9:00 a.m. Mass was celebrated by the Most Rev. William D. Byrne, Bishop of the Diocese of Springfield, Massachusetts.
Watch the Ordination Mass here.
Acknowledging the Lewis family, especially Fr. Jason's parents, Joyce and Larry, as "a living, breathing sign of God's mercy through the intercession of the Blessed Mother," the Bishop continued, "As happy as you are today, there's someone who is even happier: the Blessed Mother, for her son Jason will join her Son Jesus in the priesthood. We pray you may be a worthy son of such a wonderful Mother."
A priest is called to be teacher, sanctifier, and shepherd, the Bishop explained.
"You are being ordained today to bring peace and joy to the world through the proclamation of the Word and the administration of the Sacraments. By your ministry the spiritual sacrifices will be made perfect. Imitate what you celebrate. Understand what you do. Walk in the newness of life. God's love is always transformative. It is always life-giving. Strive to bring the faithful into one family so you can lead them to God the father and the Holy Spirit. Seek out the lost sheep."
Please pray for Father Jason Lewis and all of our Marian priests, brothers, and seminarians!
Is God calling you to be a priest? Or do you know someone who would make an ideal priest? Contact us!
Father Jason's First Mass