New Postulants and Novices
At the start of Marian Week at the National Shrine of Divine Mercy in Stockbrdge, on August 14, five new candidates were admitted to the one-year novitiate during the Evening Prayers, and on the following day a group of four candidates were admitted to the one-year postulancy in the American Province of the Marians.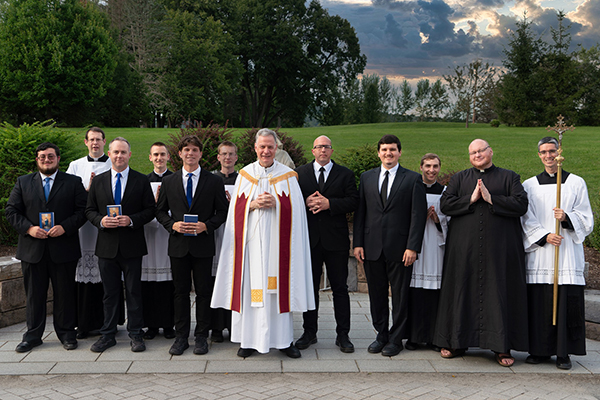 Profession of Vows
Marian Week is also host to the profession and renewal of vows. During the 9:00 a.m. Mass at the National Shrine on Aug. 15, four men took their First Vows of poverty, chastity, and obedience into our Marian community.
Following the First Vows, all the current Marian Brothers in Temporary Vows renewed their annual vows.
Please keep all of our Marian priests, brothers, and seminarians in your prayers!
On Aug. 16, Br. Stephen Castellano, MIC, was invested with the White Habit after his profession of perpetual vows. He is the first Marian in our province to receive the White Habit. Watch the Mass here.