Recently Departed Marians
Father Eugeniusz Delikat, MIC
09.13.1930 – 06.27.2021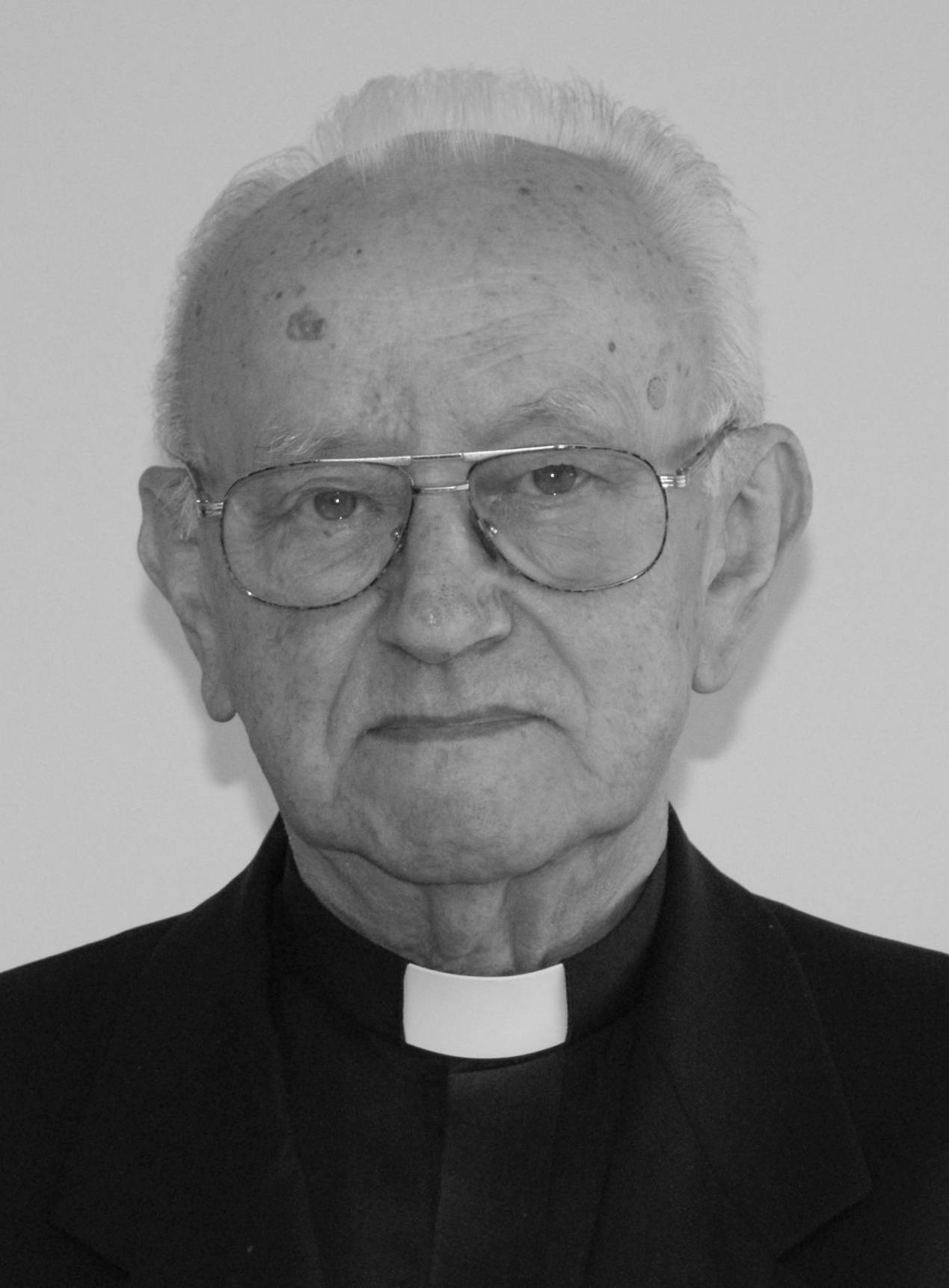 Poland, Licheń: Father Eugeniusz Delikat, MIC passed away
On the morning of June 27, 2021, Father Eugeniusz Delikat, passed away at our religious house in Licheń. He was 90 years of age, a religious for 70 years and a priest for 63.
Eugeniusz Stanisław Delikat, son of Maximillian and Helen nee Chrzanowska, was born on Sept. 13, 1930 in Chełmno, Poland. He started primary school in Chełmno, and he continued his education in Toruń after his family moved there in 1938. In the years 1945-1946, he completed his first year of middle school in Toruń, and then he continued his schooling in Chełmno, where he obtained his middle school certificate. In 1949, as a high school freshman, he entered the minor seminary of the Missionaries of the Holy Spirit in Bydgoszcz, but in December of that year, the seminary was closed by the Ministry of Public Security (the Polish secret police).
In January 1950, he was admitted to our Congregation. He made his novitiate in Skórzec and made his first profession on March 25, 1951 – the feast of the Annunciation of the Lord. Transferred to our minor seminary in Bielany (Warsaw) in 1952, he obtained his high school certificate and went to take philosophy courses. From 1954-1955, he was on sabbatical in our house in Grudziądz. He made his perpetual profession on March 25, 1957. He studied theology in Gietrzwałd and then in Włocławek, where Antoni Pawłowski, Bishop of the Włocławek Diocese, ordained him to the priesthood on June 22, 1958, at the end of his third year of theology.
He finished his theology course in the academic year of 1958-1959. Father Eugeniusz's first pastoral posting was to Grudziądz, where he was appointed rector of the Church of the Immaculate Heart of Mary and performed pastoral, catechetic and administrative work. In 1964, he was assigned the duties of the prefect of our seminarians in Włocławek, which he carried out for two years. In 1966, he became the superior and treasurer of our religious house in Grudziądz. On June 5, 1967, he had a serious motorcycle accident. As a part of his recovery, he spent several months in 1968 with his brother in South Africa. After his second term as the house superior in Grudziądz, he worked between the years 1972-1974 in the Province of St. Stanislaus Kostka in the U.S. Upon his return in mid-October 1974, he was re-assigned to Grudziądz. From the years 1975-1981, he was the house superior and treasurer in Warsaw-Praga, and the youth chaplain, as well as the confessor of the novices in Skórzec and the seminarians in Lublin.
On June 10, 1981, the Provincial Chapter elected him the Polish Provincial Superior. During his term in office, the Polish Province began its missionary service in Rwanda. As Fr. Eugeniusz completed his term as provincial superior, on June 25, 1987, the General Chapter elected him Vicar General of the Congregation. Having returned from Rome, Fr. Eugeniusz resumed his duties of house superior in Warsaw-Praga and the confessor of our seminarians in Lublin. In 1994, he was named the house superior of our religious house and the rector of the shrine in Vilgertshofen, pastor in Epfach and delegate of the Provincial Superior for Germany. In August 1999, he became the prefect of youth and the spiritual director of the Catholic Secondary Collegium Primum (a high school) in Grudziądz. In 2001, he was transferred to Medlingen in Germany as a pastoral associate.  In 2003, he was again transferred to the religious house in Grudziądz to assist in pastoral ministry at the church of St. Francis Xavier. In 2008, he worked as a pastor in Medlingen for 5 months. In 2010, he was transferred to the religious house in Licheń, where he remained until his death, serving as a confessor as much as his condition allowed.
Father Władysław Ciągło, MIC
04.26.1965 – 04.23.2021

Poland, Warsaw–Stegny: Father Władysław Ciągło, MIC died suddenly in the late evening hours of April 23, 2021. He was 56 years of age, a member of our Congregation for 36 years and a priest for 30.
Władysław Sprawło, MIC, son of Władysław and Janina née Bodziony, was born on April 26, 1965 in Stadły, and on May 16, 1965, he was baptized in Podegrodzie–the home parish of our holy Father Founder, Stanisław Papczyński. Władysław began his schooling at the Stadły Elementary School, and–after its closing–he continued in Podegrodzie. In 1984, he graduated from a vocational high school in Nowy Sącz, with qualifications as a machine mechanic.
After postulancy in Stoczek Klasztorny, he was admitted to the novitiate in Skórzec, where he made his first profession of vows on September 8, 1985. He studied for the priesthood at the Marian Fathers seminary in Lublin, and on June 16, 1991 Bishop Władysław Miziołek, a Suffragan of Warsaw, ordained him a priest in Warsaw–Stegny.
Father Władysław's first post after ordination was in Drietoma, near Trencin in Slovakia. In 1994 he was appointed as pastor of the Brumov-Bylnice parish and the administrator of the parish in Nedašov in Moravia, in the Czech Republic. On December 8, 1994, he was named the second councilor of the newly established Provincial Vicariate in the Czech Republic and Slovakia and became its first councilor in 1997. A year later he was appointed the Vicariate superior and fulfilled this office until 2005. In 1998, he was transferred to the religious house in Hrádek and appointed its superior and treasurer, as well as the administrator of the local parish. In 2001, he was also named the administrator of the parishes of Trhový Stepanov and Soutice. On January 1, 2003, he was appointed pastor in Hrádek and vicar in the parishes of Trhovy Stepanov and Soutice. In 2005, he became the first house councilor in Hrádek, still serving as the local treasurer. In 2007, his superiors moved him to the Dudince residence in Slovakia and appointed him its treasurer.
In 2009, he was transferred to the BVM, Mother of Mercy Province in the USA to prepare for mission work in the Philippines. He belonged to our houses in Washington, DC and Darien, IL. In 2012, he arrived in the Philippines, which belonged to the General Vicariate in Asia, and was appointed first to the house in El Salvador, then to the formation house in Davao (2015) and then again to El Salvador (2017). He was the Vicar Superior of the Asian vicariate for one term. In August 2020, he was transferred to Poland, where he joined the community in Warsaw–Stegny and ministered in the local parish.
Funeral ceremonies took place in the parish church of Blessed Virgin Mary, Mother of Mercy on Wednesday, April 28. The deceased was laid to rest in the Marian Fathers' section of the Wawrzyszew cemetery in Warsaw.
Father Ludwik Meyerholz, MIC
11.07.1941 – 04.03.2021

Poland, Warsaw: On the morning of April 3, 2021, Fr. Ludwik Meyerholz, MIC, passed away at the hospice of the Orionist Fathers in Wołomin near Warsaw.
He lived for 79 years, was a member of our Congregation for 60 years, and a priest for 52.
Ludwik Alfred Meyerholz, son of Alfred and Weronika née Pawlak, was born on November 7, 1941 in Grudziądz – the eldest of seven siblings. He became an altar boy in the parish of the Blessed Virgin Mary even before starting elementary school, and from that time on, he thought about dedicating himself to priestly service.
From 1948-1955 he went to primary school, and then from 1955-1959 completed his high school course in Grudziądz. When he was in high school, his desire to become a priest was joined to his Marian devotion and the wish to join a Marian religious community. Admitted to our Congregation, he made his novitiate in 1959-1960 in Skórzec, followed by his first vows on August 15, 1960. After the novitiate, he was assigned to work in the religious house in Skórzec. He completed the first year of philosophy in Praga, Warsaw district (1961-1962) and then went to the seminary in Włocławek (1962-1967). He made his perpetual vows in Włocławek on February 2, 1967, and on June 18, 1967, he was ordained a priest in the cathedral basilica by Antoni Pawłowski, Bishop of Włocławek.
Father Ludwik's first post after ordination was in Głuchołazy, where he served as a catechist and assistant in pastoral ministry. From 1971-1972 he performed the same tasks in Licheń. In 1972, he was transferred to Warsaw-Praga to work pastorally and serve on the commission preparing for the celebration of the 300th anniversary of the Congregation and was also a member of the editorial team of the Polish Province monthly Immaculata. In 1973 he was sent to study theology at the Academy of Catholic Theology. In 1975 he became an assistant for catechetical matters and a member of the provincial commission for the apostolate.
In 1981 he was transferred from the house in Praga to the house in Stegny as the vicar of St. Catherine Parish and assigned to work at the Chapel of Our Lady of Mercy in Stegny. At that time, he was entrusted with the duties of the provincial assistant for liturgical services of the altar. In 1986, he became the first house councilor in Stegny. In 1987, transferred from Stegny to Marymont (a Warsaw district), he became the house superior and parish priest. He was also reappointed to serve as a member of the provincial commission for the apostolate. In 1989, he was also appointed treasurer of the religious house in Marymont and instructor of catechetics at the Marian Seminary. In 1991, Cardinal Józef Glemp appointed Fr. Ludwik a member of the priestly council for the Archdiocese of Warsaw.
Having completed two terms as the Marymont house superior, Fr. Meyerholz was transferred in 1993, to Augsburg to improve his language skills in German and to assist the local community in pastoral ministry. From the years 1994-2002, he was the superior and treasurer of the religious house in Elbląg and the pastor of All Saints Parish (1994-2005). In 1995, the bishop of Elbląg entrusted Fr. Ludwik with the duties of spiritual director of the deanery Elbląg– City Center, and appointed him a member of the pastoral council for families in the Elbląg diocese, and also the diocesan chaplain of families, and church assistant of the Association of Catholic Families and confessor of the students in the Elbląg diocese. From 2001-2002, he was a deanery inspector for teaching religion in the Elbląg– City Center. In 2000, the provincial superior appointed him once again as a member of the commission for the apostolate.
In 2005, Fr. Ludwik, whose health and physical fitness started to deteriorate, was transferred to the religious house in Warsaw-Praga. For the autumn provincial convention of 2009, he prepared a written statement-testimony entitled My outlook on illness and aging. As long as his health permitted, he pastorally assisted the local religious community.
Father Stanisław Maliński, MIC
06.04.1931 – 03.21.2021

Czech Republic, Brumov-Bylnice: in the early hours of March 21, 2021, Fr. Stanisław Maliński, MIC died at the hospital of Zlina (Czech Republic). He was 89 years of age, a member of our Congregation for 67 years and a priest for 54.
Stanisław Maliński, son of Józef and Franciszka nee Bryła, was born on June 4, 1931 in the town of Zabostów Mały in the parish of Łowicz Kolegiata (Poland). He attended grades 1 to 4 at the school in Popów and grades 5 to 6 in the town of Kompin. Between the years 1944-1947, he helped at his parents' farm. From 1947-1948, he attended a trade school in Łowicz, while working as a tailor's apprentice in a "care and education" facility. From the years 1948-1951, he went to the Bishop's High School in Lublin, where he completed his 10th grade. After his father's death, he moved to Warsaw and was admitted to the lower seminary, which he attended between 1951-52 and continued his schooling as an 11th-grade student at the school on Otwocka Street. Since he did not pass the final school exams, he was accepted conditionally to the Preparatory Department of the Metropolitan Seminary with residency in Milanówek outside of the seminary from 1952-1953. He received his high school diploma in 1953, completing his 11th grade at the Pruszków State Correspondence School.
Stanisław was admitted to our Congregation in September 1953, and made his first vows on October 4, 1954, having completed his novitiate in Skórzec. Next, he took the philosophy courses in Gietrzwałd between 1954-1956 and in 1956, theology in Warsaw. In 1960 and 1961 he was a fourth-year student in Włocławek. Due to poor academic performance, he asked permission to interrupt his studies and decided to remain a religious brother in the community. His superiors accepted his decision and admitted him to his perpetual profession, which he made in Skórzec on August 15, 1961. As a religious brother, he was assigned to our religious house in Grudziądz. In 1964, the provincial superior allowed him to continue his studies at the seminary in Siedlce, where he was admitted to the second year of theology. In 1965, he asked to be reinstated in his previous clerical status, to which permission was granted in 1966. He was ordained to the priesthood in the Siedlce cathedral by Bishop Wacław Skomorucha, auxiliary of the Siedlce Diocese, i.e., Podlasie Diocese, on May 20, 1967.
After ordination, he was assigned to pastoral and catechetical work in Góra Kalwaria. In 1970 he was transferred to the house in Grudziądz as a catechist and assistant in pastoral ministry. During the years 1971-1978, he was the house superior's substitute, while from 1978-1987 he was the house superior in Grudziądz, and then also the house treasurer from 1981-1984. In 1987 he was transferred to pastoral and catechetical work in Głuchołazy. In 1990, following the invitation of Jan Chryzostom Korec, the bishop of Nitra, the provincial superior dispatched Fr. Stanisław to work in that diocese. The bishop appointed him vicar to the parish of Drietoma near Trencin and Trencin-Hradek. In 1992, Fr. Stanisław was transferred to the parish of Brumov-Bylnice and Nedasov in the Archdiocese of Olomouc to serve as a parish vicar. At the same time, the provincial superior entrusted him with the duties of acting superior, and in 1993 he became the deputy superior of the house. In 1995 he was transferred to the religious house in Drietoma and became a house councilor there. In 1996 he was again moved to the house in Brumov-Bylnice and appointed 1st councilor and treasurer, and in 1999 – 2nd councilor and treasurer from 1999-2001. He was re-appointed to the aforesaid offices in 2002. The vicariate superior entrusted Fr. Stanisław with the duties of house treasurer until 2017. He remained in Brumov-Bylnice until the end of his life, actively supporting his confreres in their pastoral work, despite his declining health.
Father Seraphim (Stanislaus) Michalenko, MIC
08.30.1930 – 02.11.2021

USA, Stockbridge, Mass.: Fr. Seraphim (Stanislaus) Michalenko, MIC (1930-2021), passed away.
A native of Adams, Massachusetts, 72 years a professed religious and 64 years a priest, Fr. Seraphim is a member of Blessed Virgin Mary, Mother of Mercy Province of the Congregation of Marian Fathers of The Immaculate Conception. With licentiate degrees from the Pontifical University of St. Thomas (The Angelicum) and the Pontifical Institute of Eastern Church Studies (The Oriéntale) in Rome, he lectured for several semesters in the Department of Theology at the Catholic University of America and served in seminary and formation positions for the Marians.
Fr. Seraphim also held various administrative roles in his Province and in the Congregation's Generalate in Rome, as well as pastoral roles in Eastern Rite parishes in Australia, Ohio, Pennsylvania and Connecticut. Together with Archbishop George Pierce, S.M. and Fr. George Kosicki, CSB, Fr. Seraphim served as a core-memberof the Bethany House of Intercession for Bishops, Priests, and Deacons; a spiritual renewal movement for Catholic clergy in the 1970s, serving priests from all over the world. In 1979, a year after Pope St. Paul VI lifted the banon Sister Faustina's writings and elements of The Divine Mercy devotions, Fr. Seraphim was called from Bethany House to head The Divine Mercy Department at the Marian Helpers headquarters in Stockbridge, MA. In that position, he wrote a series of articles for the Marian Helpers magazine, and supervised the production of various books, pamphlets, and audio-visual materials dealing with The Divine Mercy Message and Devotion and Sister Faustina's writings.
Fr. Seraphim served as Vice-Postulator for North America in the Canonization Cause of Sister Maria Faustina Kowalska, an assignment he held for over twenty years.  Fr. Seraphim spent over three years in Rome, making a significant contribution to the successful conclusion of Sister M. Faustina's beatification and canonization processes. 
He was likewise a first-hand witness to Maureen Digan's and her son's miraculous healing attributed to Saint M. Faustina's intercession that opened the way for her Beatification in 1993. He was also a coordinator of the efforts that served to verify not only that miracle but the second as well, which made it possible for Sister M. Faustina to be declared a Saint on Divine Mercy Sunday of the Jubilee Year 2000 as first saint of the New Millennium, "… God's gift to our time " (from Pope St. John Paul II's canonization homily). 
Fr. Seraphim served as theological advisor for the award-winning video docu-drama Divine Mercy—No Escape and for the devotional video Sister Faustina: The Promise of Mercy. He also played a significant role in the production and narration of a video released in 1992, Sister Faustina: The Apostle of Divine Mercy. Then, from November 1991 to October 1995, he served as director of the Association of Marian Helpers under the honorary title "Father Joseph." In this capacity, he supervised the scripting and production of another video. Time for Mercy — released in 1994 by the Marians and produced byDrew Mariniand his company Marian Communications Ltd., which won a First Place Gold Camera Award in international competition for outstanding creativity in the production of Audio-Visual Communications.
In October 1995, Fr. Seraphim was assigned to full time promotion of The Divine Mercy Message and Devotion, participating in Divine Mercy retreats, conferences, and symposia primarily through the Marian Fathers John Paul II Institute of Divine Mercy.
While serving as Rector of the Divine Mercy Shrine the United States Conference of Catholic Bishops' Committee on Divine Worship elevated the Shrine to its National Status.
Fr. Seraphim worked closely with Mother Angelica, who embraced the Divine Mercy message and devotion and spread it far and wide through her EWTN network. 
In 2005 he participated in the international symposium in Krakow, Poland, that gave rise to the World Apostolic Congresses of Mercy.  He participated in all four as an active participant and an inspiring speaker.  
He assisted in the growth and development of such Apostolates of Divine Mercy as Mother of Mercy Messengers headed by Joan and Dave Moroney, Eucharistic Apostles of Divine Mercy, founded and directed by Dr. Bryan Thatcher (active in over 40 countries), and Healthcare Professionals for Divine Mercy founded by Marie Romagnano and participated in all its 16 conferences. 
The Lord in His mercy and love was faithful to Fr. Seraphim and graciously helped him at every stage of his work in the promotion of the Divine Mercy message and devotion.  Fr. Seraphim always relied on the unfathomable mercy and kindness of Our Lord, in whom he trusted completely. And he was never disappointed.
The Lord prepared him for eternal life throughout his whole life, but also provided with the Sacraments of the Church. Before his death Fr. Seraphim received the sacraments of reconciliation, anointing of the sick, and the Eucharistic Jesus the food for the journey 30 minutes before he passed away.  He also received Apostolic Pardon through the Holy Mysteries of Our Redemption for the remission of all sins and release from all punishments in this life and in the life to come.  He passed away peacefully from the complications due to COVID-19 on the feast of Our Lady of Lourdes.  There are two days when Our Lady in the mystery of her Immaculate Conceptions are celebrated: Solemnity of the Immaculate Conception celebrated on December 8 and the Feast of Our Lady of Lourdes. The Immaculate Conception, Patronnes of the Marian Fathers' Congregation, prepared her special son to enter into the Father's House on her special Feast. "May the Virgin Mary's Immaculate Conception be his salvation and protection."