Belarus, Orsha: Ordinations to the priesthood
The Bishop of Vitebsk Alieh Butkiewicz ordained to the priesthood two Marian deacons: Kanstantsin Anashka, MIC, and Wadzim Mizer, MIC. The ceremony took place on Saturday, March 8, 2014, at St. Joseph's Church under the Marians's care in Orsha. The newly ordained were joined in prayer by the faithful from the Marian parishes in Barysau, Minsk, Rosica, Zhodzina, and the former Marian post in Druya​​. The Mass of ordination was concelebrated by Fr. Paweł Naumowicz, MIC, Superior of the Divine Providence Province, and Archimandrite Sergiusz Gajek, MIC, Apostolic Visitator to the Byzantine Rite Church in Belarus.
The newly ordained priests joined the Congregation of Marian Fathers in 2005. They underwent their entire formation – postulancy, novitiate, and seminary studies – in Poland. From the moment of being ordained to the diaconate they both served in their native Belarus: Fr. Kanstantsin in Zhodzina, and Fr. Vadzim in Barysau.
It's noteworthy that the ordinations performed by Bishop Alieh Butkiewicz were the first in his pastoral ministry.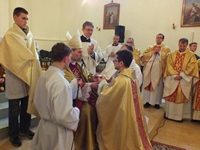 On behalf of the General Government of the Congregation and the Website editors, we wish to our visitors that the Christ Child richly bless them all with an abundance of His peace, love and joy. May you experience more of His joyful presence in your heart as you celebrate His holy and blessed birth in Bethlehem. And may Our Lady, the Mother of Jesus nurture and protect you and your loved ones throughout the New Year of 2020.
On Saturday, January 4, 2020, in Vabole (near Daugavpils), Latvia, the book Dieva kalps Jānis Mendriks MIC – īsts [...]
On December 27, 2019, for the first time in the history of our Congregation, three Marians who had been [...]