Belarus, Orsha: Ordinations to the priesthood
The Bishop of Vitebsk Alieh Butkiewicz ordained to the priesthood two Marian deacons: Kanstantsin Anashka, MIC, and Wadzim Mizer, MIC. The ceremony took place on Saturday, March 8, 2014, at St. Joseph's Church under the Marians's care in Orsha. The newly ordained were joined in prayer by the faithful from the Marian parishes in Barysau, Minsk, Rosica, Zhodzina, and the former Marian post in Druya​​. The Mass of ordination was concelebrated by Fr. Paweł Naumowicz, MIC, Superior of the Divine Providence Province, and Archimandrite Sergiusz Gajek, MIC, Apostolic Visitator to the Byzantine Rite Church in Belarus.
The newly ordained priests joined the Congregation of Marian Fathers in 2005. They underwent their entire formation – postulancy, novitiate, and seminary studies – in Poland. From the moment of being ordained to the diaconate they both served in their native Belarus: Fr. Kanstantsin in Zhodzina, and Fr. Vadzim in Barysau.
It's noteworthy that the ordinations performed by Bishop Alieh Butkiewicz were the first in his pastoral ministry.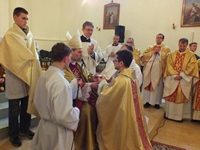 On the morning of June 27, 2021, Father Eugeniusz Delikat, passed away at our religious house in Licheń. He was 90 years of age, a religious for 70 years and a priest for 63.
On Saturday, June 5, 2021 - the fifth anniversary of the canonization of Saint Stanislaus of Jesus and Mary Papczyński - three Marian deacons: Bartłomiej Przychodzki, MIC, Jan Paweł Federowicz, MIC and Jan Czupryński, MIC (from Belarus) were ordained to the priesthood at the parish church of Our Lady, Mother of Mercy.
Father Władysław Ciągło, MIC died suddenly in the late evening hours of April 23, 2021. He was 56 years of age, a member of our Congregation for 36 years and a priest for 30.