Belarus, Orsha: Ordinations to the priesthood
The Bishop of Vitebsk Alieh Butkiewicz ordained to the priesthood two Marian deacons: Kanstantsin Anashka, MIC, and Wadzim Mizer, MIC. The ceremony took place on Saturday, March 8, 2014, at St. Joseph's Church under the Marians's care in Orsha. The newly ordained were joined in prayer by the faithful from the Marian parishes in Barysau, Minsk, Rosica, Zhodzina, and the former Marian post in Druya​​. The Mass of ordination was concelebrated by Fr. Paweł Naumowicz, MIC, Superior of the Divine Providence Province, and Archimandrite Sergiusz Gajek, MIC, Apostolic Visitator to the Byzantine Rite Church in Belarus.
The newly ordained priests joined the Congregation of Marian Fathers in 2005. They underwent their entire formation – postulancy, novitiate, and seminary studies – in Poland. From the moment of being ordained to the diaconate they both served in their native Belarus: Fr. Kanstantsin in Zhodzina, and Fr. Vadzim in Barysau.
It's noteworthy that the ordinations performed by Bishop Alieh Butkiewicz were the first in his pastoral ministry.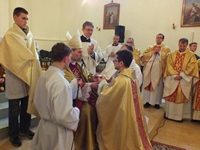 The Love of the Holy Thursday...
The Congregation's Jubilee Gift for the Shrine of Saint Stanislaus Papczyński in Góra Kalwaria, Poland A special monetary gift [...]