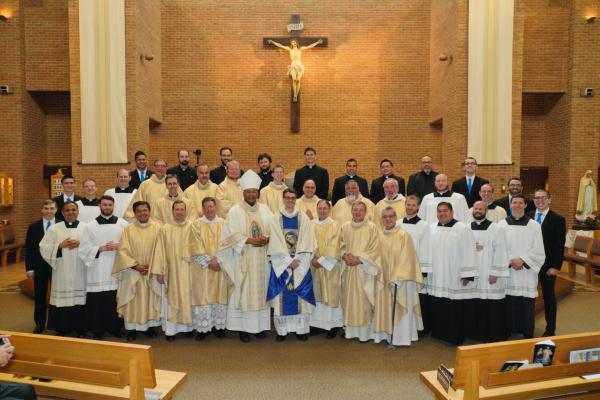 It was a joyous day of celebration as the newest Marian Father was ordained to the priesthood. Originally from Fort Lauderdale, Florida, Fr. Gabriel Cillo, MIC, was joined by family from Texas and Florida, friends from across the nation, the Marian community, and his new parish family at St. Patrick's parish in Yorkville, Illinois, as he was ordained to the sacred priesthood by the Most Rev. Martin D. Holley, bishop of Memphis and vir aggretatus (aggregate member) of the Marian Fathers of the Immaculate Conception.
"Today is a great day of joy for me, and my brother Marians, and the whole Marian community on the occasion of your ordination to the Sacred Priesthood," Bishop Holley stated. "[Father] Gabe, we thank you so very much for your vocation, love, sacrifice, and perseverance to your call to follow Jesus Christ, the High Priest.
"After today, your life will be very different, and changed forever, as will the lives of the people with whom you will be called to lead and serve through your pastoral ministry," Bishop Holley continued.
The Mass of Ordination's Gospel reading came from Matthew, chapter 10 — the call of the Twelve Apostles. Bishop Holley explained, "As you might guess, each disciple [Jesus] called had different gifts and talents, which were used to build up the Kingdom of God. The Gospel is like a mirror for us who are gathered here today, who also have many different gifts and talents to share with one another."
This is a call to love and service Bishop Holley added.
Referencing Fr. Gabe's choice for his ordination date — June 9, the Feast of the Immaculate Heart of Mary — Bishop Holley urged Fr. Gabe to call upon our Blessed Mother Mary, ever virgin, to teach him about her Son's love and mercy.
He concluded that all of us, the lay faithful, are also called to live lives of love and service, especially in prayer for our brother priest, Fr. Gabe.
"From now on, and for the rest of your life," Bishop Holley told Fr. Gabe directly, "pray every Mass as if it were your first Mass, your last Mass, and your only Mass. And always remember that 'His Mercy endures forever.'"
Speaking of his first Mass, not only was Fr. Gabe's ordination Mass at the Marian parish of St. Patrick's, his first Mass will be held at the parish on Sunday, June 10. The Marian parishes of St. Mary's in Plano, Illinois, and St. Patrick's, in Yorkville, were thrilled to host the ordination and Fr. Gabe's first Mass.
"He's such a great guy, and it's our joy to put this together for him," one parishioner shared. During his apostolic year two years ago, Fr. Gabriel (then Br. Gabriel) spent a year with the parish communities. He's a familiar face around town, and the parish family were overjoyed to hear the news that Fr. Gabriel will be assigned as their new associate pastor.
Please join the Marian Congregation in giving thanks for the ordination of Fr. Gabriel Cillo, MIC, and please keep him in your prayers.
Gabriel Cillo, MIC, is ordained to the sacred priesthood
Just two hours before kick-off of Super Bowl LIV on Sunday evening, the Marian Fathers celebrated their own special and [...]
Rev. Casimir (Kazimierz) Krzyżynowski, MIC was born in Lublin, Poland on January 17, 1923. He did his schooling in [...]
On behalf of the General Government of the Congregation and the Website editors, we wish to our visitors that the Christ Child richly bless them all with an abundance of His peace, love and joy. May you experience more of His joyful presence in your heart as you celebrate His holy and blessed birth in Bethlehem. And may Our Lady, the Mother of Jesus nurture and protect you and your loved ones throughout the New Year of 2020.