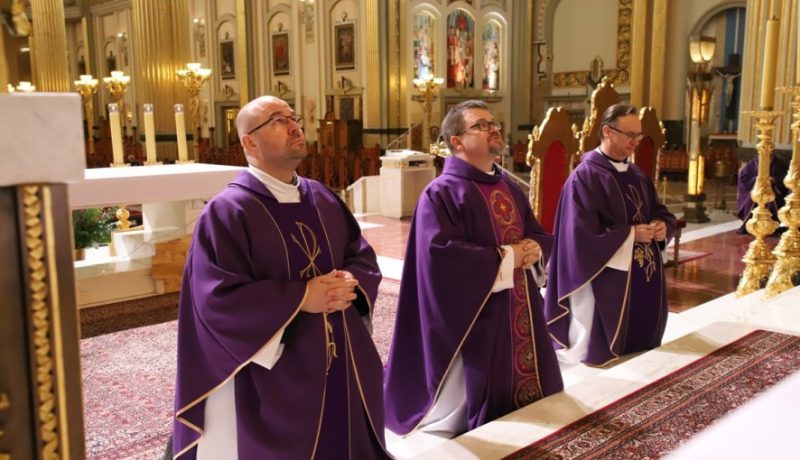 During Holy Mass at noon, on Tuesday, March 26, 2019, the Marian Fathers, members of the Polish Province of Divine Providence, gathered at the annual provincial convention, prayed before the miraculous image of Our Lady of Licheń.
The Eucharist was presided over by the Provincial Superior, Father Tomasz Nowaczek, MIC. Thirty-two priests, participating in the Licheń convention, concelebrated. The homily was delivered by Father Dr. Tomasz Sekulski, MIC, Rector of the Marian seminary in Lublin.
In his homily, Father Sekulski emphasized that during Lent we are to own up to our sins, which is not an easy task. "Throughout centuries, the Lord God, acting out of His great love for men, sent prophets advocating the holiness of life and man's vocation to holiness. Many of these prophets ended up poorly. But we are not afraid to accept during Lent prophecy and prophets who admonish our weaknesses. God sends them so that we would not forfeit our lives or our calling."
During the day of recollection at the start of the meeting, Marians, gathering at the provincial convention in Licheń, pondered the first Decalogue commandment regarding idolatry. In consideration of the Catechism of the Catholic Church, the homilist pointed out various sins against the first commandment, including unbelief, indifference, ungratitude to God, spiritual indolence, breach of promises made to God, superstition, occultism, deification of power, pleasures and sacrilege. – "We strike our chests today, acknowledging all sins committed against the first commandment; and today, in the presence of God, through Mary's intercession, we want to entrust our lives to God, and to ask for God's mercy," added the homilist.
This year's spring convention of the Congregation of the Marian Fathers is dedicated to permanent formation, that is, an endeavor to maintain the proper quality of spiritual life – both individually and communally. – "Formation, which begins at the postulancy and novitiate, and continues during the time of temporary vows, does not stop at the profession of perpetual vows, because formation demands continual attention. If a religious does not nurture his faith, in spite of the best preparations before perpetual vows or ordination, his spiritual life will fall apart," said Father Dr. Piotr Kieniewicz, MIC, the Marians spokesman in Poland.
House superiors of the Polish Province of the Congregation of the Marian Fathers and guests also participated in this year convention, which ended Thursday, March 28, 2019.
Poland, Licheń: Provincial Convention